Precision Motion Control Solutions
Griffin Motion strives to find the best possible solution for our customer's applications.  We understand that not every customer comes to us with the exact same needs.  While our growing line of stock products meets many customers' needs, still many need something a little different to meet their application requirements.  We have from the very beginning kept flexibility in our products and company as driving force.  Our stock products are modular allowing for the addition and subtraction of many standard options.  This allows for performance tailored to our customers' needs and provides the best possible price to performance in the market.  When standard product and standard options do not fill the need we start working to see what will.
Stock Product Modifications
Many times a stock product is very close to being the perfect solution.  In order make these products work for our customers we often integrate modifications to make them the perfect fit.  A few of the things that we routinely add for our customers are:
Additional customer payload mounting holes
Additional stage mounting holes
Positive and Negative air pressure ports
Specific travel limit locations
Specific lubricants
These small changes can make the product integration substantially easier and faster for our customers.  The cost for stock modifications is most times very minimal but the payout can be tremendous.
Custom Stages
When stock products or modifications to stock products won't do the job we offer fully customized stages.  These can be new versions of existing stages or completely new designs.
Often, an extrapolation of a stock product is what the customer needs.  For example, a recent customer was spatially constrained and needed their motion inside of a specific envelope.  No stock product would meet their specific needs.  It was determined that one of our EXY stages would meet the performance requirements, just not their envelope requirements.  A new version of the stage allowing for 140mmx60mm of travel was created and implemented with great success.
Another frequent challenge to our OEM customers is replacing or resourcing competitors' motion products that are designed in but not getting the job done.  This arises from many different scenarios, but always presents a significant challenge.  Many of our customers make extremely complex equipment where motion stages are integrated in large systems.  Any changes are very expensive and take a long time.  To help in these situations we are often times asked to make a drop in form fit but better function solution.  One example of this would be our MLS stage.  The customer had sourced a competitor's product.  After integration, prototype builds, and product launch they went to volume production.  When they started buying the stages in high volume, the performance deteriorated to a level that was unacceptable.  We were asked to make a stage that mechanically and electrically interfaced in their system but just worked.  The MLS stage was born and has been a standard product offering for years now.
Finally, in the world of motion, some situations and problems are unique and require ground up designs of new systems.  Griffin Motion will work with you to create the perfect stage for your application.  Below are just a few examples of custom stages.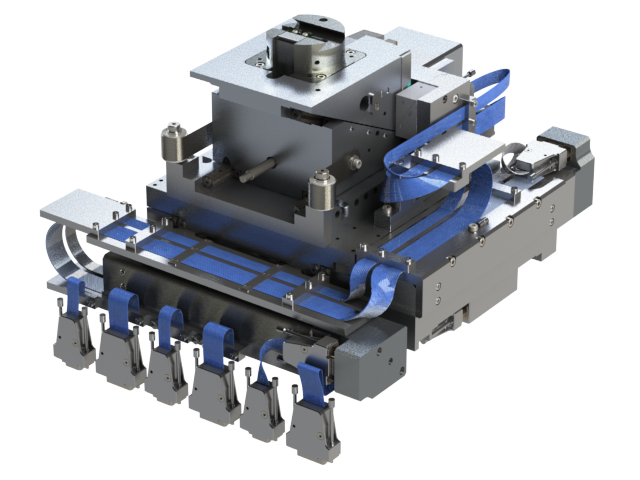 High Vac XYZ
High precision 75mm XY with 25mm Z nanometer positioning stage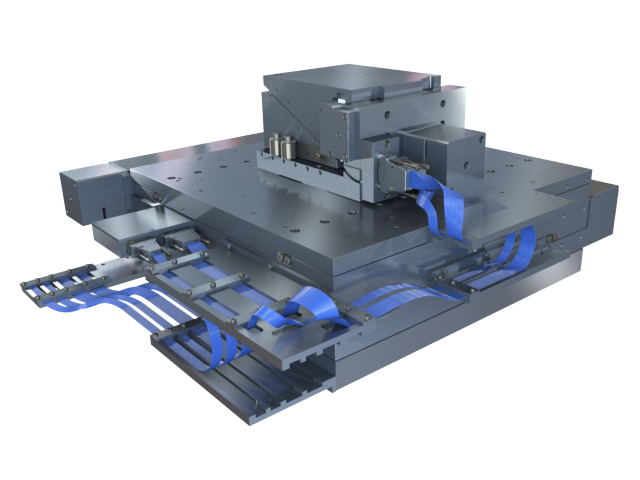 High Vac XYZ
High precision 320mm XY with 25mm Z nanometer positioning stage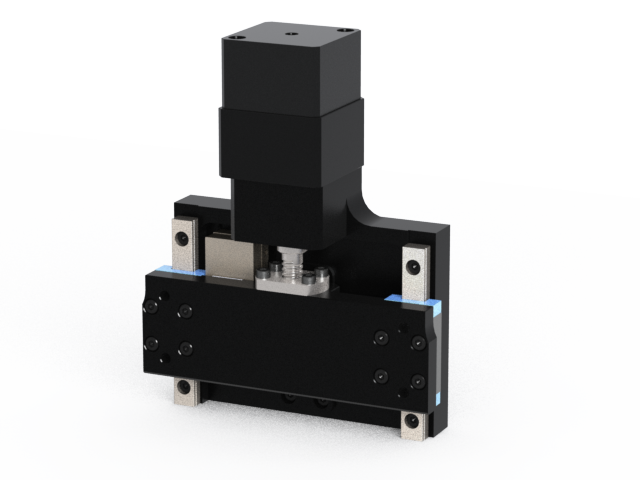 Micro Dispensing Stage
Custom stage for precise micro-dispensing of liquid product
Difficult Environments
Not everyone or every product gets to operate in a pristine lab environment.  Products need to be tested in the real world and manufacturing happens in extreme environments.  We have experience in making stages for operation in many different environments.
Wide temperature range
Griffin Motion makes stages that operate over a significant temperature range to allow for hot and cold testing.  Customers need to validate their products to work in extreme temperatures.  An example of products we make to help with this is our wide temperature rotary stages which are rated from +85 C to -40 C.
Vacuum stages
Griffin Motion has years of experience manufacturing stages for high vacuum.  We have the ability to convert many standard stages to high vacuum products as well as design custom vacuum stages.
Clean room stages
Our experience in making stages for operation in clean rooms makes Griffin Motion a great partner.  Most of our stock products can be prepared for cleanroom operation.
Environmental Chambers
There are some harsh environments our customers products need to operate in.  Subsequently they have to be tested in harsh environments such has high humidity, high temperatures.  We have been called upon to make stages for millions of testing cycles in these environments.  There are many design challenges to consider but Griffin Motion can deliver.
System assemblies
Often our customers need stock products configured for specific applications but do not have the engineering resources and experience to implement the project.  We frequently design and manufacture customer brackets and system assemblies for our customers.  Some examples are below.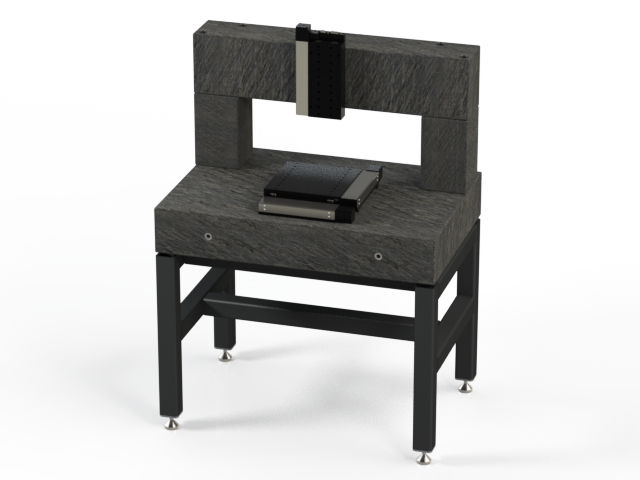 Granite XYZ
Granite Table XYZ System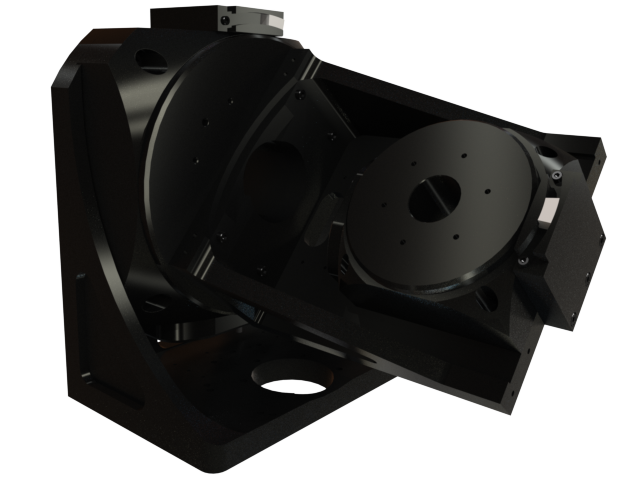 Tilt & Rotate
Two Axis Rotary System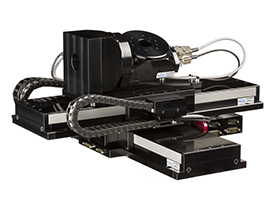 Linear Motor XYTT
Linear Motor XY with dual Rotary Axis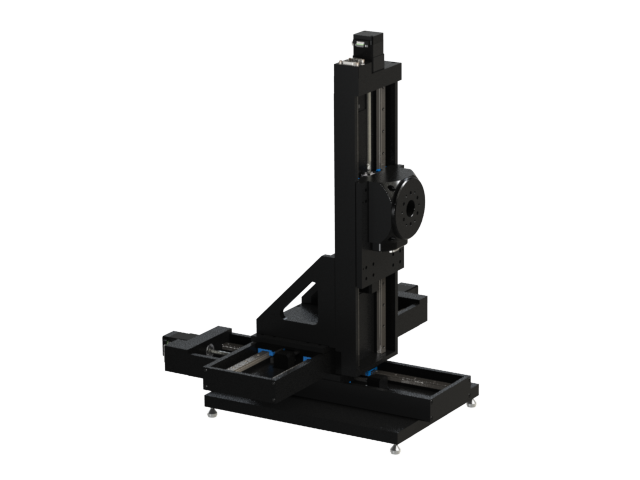 Portable XYZT
Portable XYZ with Rotary axis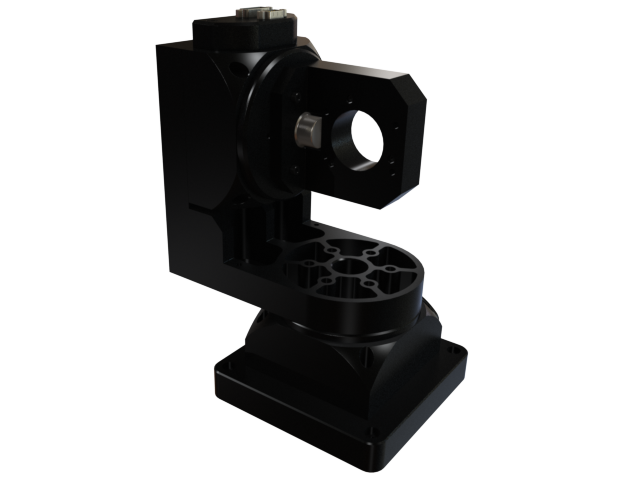 Gimbal System
Ultra Precision Gimble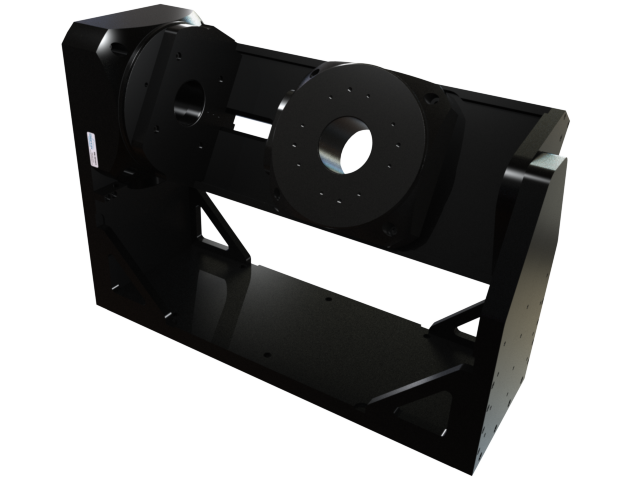 Trunion Rotary
Trunion Type Tilt & Rotate
OEM Integration
The importance of OEM customers to Griffin Motion cannot be overstated.  We understand the demands that are placed on you for timely, cost effective solutions.  We understand the need for the highest quality, unit after unit.  We understand the need for on time delivery and communication.  Griffin Motion manufactures thousands of axes of motion each year for our OEM customers.  Our organic growth from within our existing customer base speaks volumes to the level of satisfaction that our OEM customers experience.
All of the modifications mentioned above are in play and at the disposal of our OEM customers and we go through great lengths to meet your needs. All products are cycle and performance tested to ensure that when you receive them they are ready for installation and will not slow your production line down.